BBB Consumer Foundation
Better Business Bureau Consumer Foundation Mission Statement
The Better Business Bureau Consumer Foundation is a non-profit charitable organization whose mission is to prevent consumer fraud and financial exploitation by providing education and information through community programs and services.

A Message from the Executive Director: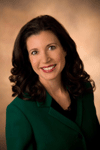 I am pleased and honored to welcome you to the Better Business Bureau Consumer Foundation, a private, charitable organization funded by individual and corporate donations and grants. The Foundation's primary purpose is to educate and protect you, the consumer, from becoming a victim of scams, frauds, and financial exploitation. While providing and encouraging consumer education to the community at large, special attention is given to groups most vulnerable to being victimized, including the older adult and Latin American communities.
The Foundation is proud to offer a variety of programs and services aimed at keeping you as financially safe as possible. Many new partnerships and programs have been developed in hopes of benefiting our 20-county community service area. These programs work toward empowering you with resources that prevent you from becoming a victim of frauds and scams.
If you would like to receive additional information, please call me to set up a presentation or program. I may be reached at 704.927.8625 or Maryanne@charlotte.bbb.org.
It may be the first step toward making you a more informed consumer.
Maryanne P. Dailey, M.A.
To Educate…To Inform…To Empower

Objectives
The Foundation is committed to the following objectives:
To promote understanding and awareness of marketplace issues, including consumer fraud and financial exploitation.


To be an information resource.


To assist consumers in recognizing consumer fraud and financial exploitation and ways to avoid becoming victims.


To serve as the community resource for information and education-related marketplace/consumer issues.


To advocate and facilitate the planning of community services.· To encourage and promote programs and presentations which enhance the financial quality of life for consumers.


To promote wise charitable giving decisions for consumers through the Foundation's Charity Review Program.
Programs/Services
The Foundation provides direct and indirect services to the community. We operate as both an information-gathering tool and community resource.
Elder Fraud Prevention Program:
Dedicated to recognizing and preventing fraudulent activities and unethical business practices in our community.


SeniorGrapevine.org:
Designed to be an informative, community e-mail bulletin service for the sole purpose of reporting older adult activities, events and programs. Also includes a community calendar of senior-related events.


Senior Scam Jam:
Aimed at older adults and their caregivers, this is a free educational event offering information from federal, state and local governments on current marketplace activities, unethical/illegal business practices and ways to avoid becoming a victim of consumer fraud.


Hispanic/Latin American Outreach Program:
Provides information, education and advocacy as tools to assist individuals in avoiding marketplace victimization a well as empowering them for future marketplace decisions.


Hispanic/Latin American Telephone Line:
A dedicated telephone line for Spanish-speaking individuals. Call 704.927.8639.


Educational Presentations:
Groups are presented with information that focuses on ways to avoid becoming the victim of frauds and scams.


Business Seminars/Workshops:
Provides companies with the opportunity to enhance their internal office practices and business ethics.


Information Resource Center:
General advice guides and brochures providing information on a variety of consumer issues offered in English and Spanish.


Charity Review Program:
Provides reports and evaluations on local charitable and non-profit organizations to assist contributors in making wise-giving decisions.
BBB Consumer Foundation Charitable Donation
The Better Business Bureau Consumer Foundation is a tax exempt organization under Section 501(c)3 of the Internal Revenue Code. Charitable contributions are tax deductible.
Yes, I would like to become a Consumer Member of the BBB Consumer Foundation. My $35.00 per year membership enables me to receive copies of the following:
Yes, I would like to support the BBB Consumer Foundation.
Please accept the donation listed below.
No, I cannot support the BBB Consumer Foundation at this time.
However, please add me to your mailing list.
| | |
| --- | --- |
| Name: | ________________________________________ |
| Address: | ________________________________________ |
| | ________________________________________ |
| Telephone: | ________________________________________ |
| Fax: | ________________________________________ |
| Email: | ________________________________________ |
Platinum
Patron
Gold
Patron
Silver
Patron
Other
$5,000
$3,500
$2,500
$1,000
$500
$250
$100
$50
$25

BBB Consumer Foundation
Attention: Maryanne P. Dailey, M.A.
13860 Ballantyne Corporate Place, Suite 225
Charlotte, NC 28277
Phone: (704) 927- 8625
Fax: (704) 927- 8626
Email: maryanne@charlotte.bbb.org
BBB Consumer Foundation Board of Directors